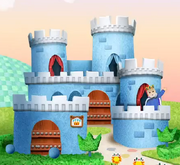 The castle is the home of King Friday, Queen Sarah Saturday, Prince Tuesday, and Prince Wednesday in the Neighborhood of Make-Believe in Daniel Tiger's Neighborhood. The castle also appeared on the original show Mister Rogers' Neighborhood as the home of the family, minus Prince Wednesday (who was not yet born).
The castle first appears in "Daniel's Picnic," in which the trolley takes Daniel to the castle to pick up Prince Wednesday and Miss Elaina for their picnic at the clock factory.
Ad blocker interference detected!
Wikia is a free-to-use site that makes money from advertising. We have a modified experience for viewers using ad blockers

Wikia is not accessible if you've made further modifications. Remove the custom ad blocker rule(s) and the page will load as expected.