Leo Lion
is a early mane-r lion that is four years old and is used to be over-protective and selfish when
Daniel Tiger
and the other children showed him the way of good.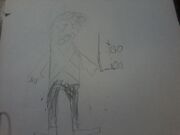 Relantionships
Katerina Kittycat: He helps her with ballet compations, He plays the piano for her.
Daniel Tiger: He first saw Leo at the beach, Leo likes to do a dance-off at the beach and when its Daniels turn he always does the "chicken dance", that makes Leo very annoyed.

Prince Wednesday: He first saw Leo at the beach, Leo tells him he is the prince, because he's a lion
O the Owl: TBD
Miss Elina: TBD
Trivia
Leo zodiac sign is Leo.

"Leo came to The Neighborhood of Make-Belive knowing nothing but when the children introduced themselved at the beached he knew something new" -IamVeryOdd-2016
Ad blocker interference detected!
Wikia is a free-to-use site that makes money from advertising. We have a modified experience for viewers using ad blockers

Wikia is not accessible if you've made further modifications. Remove the custom ad blocker rule(s) and the page will load as expected.