Daniel Tiger and his friends Katerina Kittycat, Prince Wednesday, Miss Elaina, and O the Owl as teenagers. I have Daniel Tiger wearing pants and that's how some of my artwork of him is going to be. And I'd love to see more of this!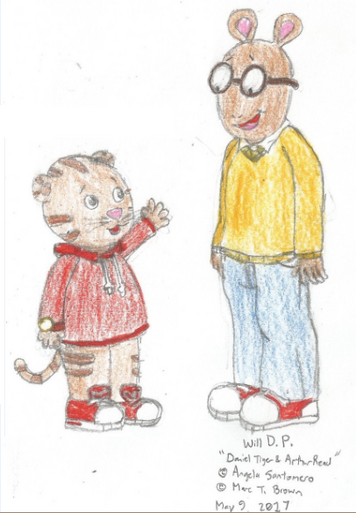 Artwork I've been wanting to do, an Arthur/Daniel Tiger crossover fan art. This just has the two titular charactersDaniel Tiger and Arthur Read. And this is more original than this picture I did: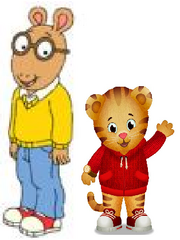 I also have this
Another drawing of Arthur and Daniel. This one was harder to make.
But you haven't seen anything yet. Wait till you see my final picture for this blog.
This is the work I've been waiting to do, the Daniel Tiger's Neighborhood characters including but other than Daniel Tiger, with Arthur Read and other Arthur characters. I have Daniel, O the Owl, Miss Elaina, Prince Wednesday, and Katerina with Arthur, his sister D.W. and their friends. Arthur's friends are Alan "Brain" Powers, Muffy Crosswire, Buster Baxter, Binky Barnes, Francine Frensky, and Ladonna Compson. D.W.'s friends are James MacDonald, Emily, Timmy and Tommy Tibble, and Bud Compson.
This is also my first picture of Ladonna and Bud together in the same picture.
My Arthur/Daniel TIger crossovers, I call it: "What a Wonderful Kind of Day in the Neighborhood!" This fulfills some of the goals I talked about on my previous blog. http://danieltigerneighborhood.wikia.com/wiki/User_blog:WillTheArthurandBusterFan5050/Just_Something_a_Fan_Plans_to_Do
Hope you like it and thanks for looking. Drawings also available on Deviant Art.
Ad blocker interference detected!
Wikia is a free-to-use site that makes money from advertising. We have a modified experience for viewers using ad blockers

Wikia is not accessible if you've made further modifications. Remove the custom ad blocker rule(s) and the page will load as expected.